Hi guys, happy What I Ate Wednesday!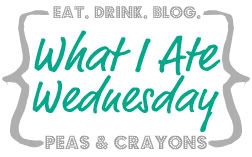 Check out Jenn's blog to learn all the W.I.A.W. details!
I decided to switch it up a bit this week. Instead of documenting my Tuesday meals (which are pretty much the same every week), I decided to give you a glimpse into a Friday. This past Friday, Bobby and I attended a wedding for two of our good friends in Philadelphia! I took a half day off work in order to make it down to Philly in time for the 4:00 ceremony. What a great day full of amazing food and even more amazing friends!
7:45 – Breakfast bowl of apple cinnamon protein "oats" with some blueberries and almond milk.
11:40 – Snack #1
Like I mentioned, I only worked a half day on Friday. When I got out, I drove directly to a salon (where I had a coupon that was about to expire… perfect timing) to get my hair blown out for the wedding. I knew I would be rushed and the last thing I felt like dealing with was my hair, so it worked out perfectly!

I knew I needed something to hold me over, so I brought a chocolate protein shake to sip on my way to the salon.
1:30 – Lunch on the go…. hummus and kale wrap (1 and a 1/2)
As soon as I got home, I threw on my dress I was wearing to the ceremony and quickly packed a lunch to bring to eat in the car while Bobby drove. It was a little boring, but it did the trick of keeping me from eating my arm off (at least for the time being).
3:30 – Snack #2
Bobby and I were both getting a bit grumpy at this point. We were stuck in a ton of traffic, and to top it off… we were both starving. Pistachios to the rescue!
6:45 – Snack Bite #3 and Drink #1
Sorry for the blurry iphone pic, I look like a goober so I felt the need to edit myself out (and I changed dresses for the reception in case you are wondering why it's different).
One (unpictured) chicken skewer was all we managed to snag during cocktail hour (which I always really look forward to). One chicken skewer. I'd like to thank the cab driver that got lost for this unfortunate happening. We didn't make it to the cocktail hour until it was just about over, and we were mad. Anywayyyy…. Bobby and I weren't sure what we needed more at that point… a drink or food. We split the chicken skewer and made our way to the bar. I ordered a cosmo. Much better.
7:30 (ish) – Salad of baby romaine with white asparagus, diced peaches, shaved fennel and port wine vinaigrette.
So, so good. I polished off mine and ate majority of Bobby's.
7:45 – Grilled filet mignon and seared salmon with grilled shrimp, green beans with almonds, and red bliss mashed potatoes
I don't know how many times I said to Bobby, "Don't let me eat anything before I take a picture for the blog." But, of course…. give me a cosmo, some champagne, and a growling stomach and I will.not.remember. Neither will my husband apparently! Anyway, this was what was left of my meal… the filet was cooked perfectly (as you can see), and I gobbled it right up (clearly).
9:00 (ish) – Dark chocolate mousse with fresh berries
By this time, everyone was busy out on the dance floor, so when I saw dessert come out, I ran back to the table to take a pic and snag a bite. I didn't have much more of it, but that bite was delish!
1:00 (ish) – Mandatory late night snack
Best bride and groom ever!!! They arranged for warm Philly pretzels to be delivered to the after party. Needless to say, a crowd of drunk 20-something year olds basically attacked the poor delivery man when these arrived. I parked my butt in a seat and Bobby and I went to town on this pretzel.
Then I drank water.
Lot's and lot's of water.
What was the best thing you've ever eaten late-night?
Do you enjoy cocktail hour finger food, or main entrees more?
What is the best thing you've eaten this week??