I can't thank you all enough for your nice comments on my half marathon recap! They made me so happy…
This week is surprisingly flying by for me. I thought with the standardized testing that my kiddos are doing this week it would drag on, but it's actually the opposite! No complaints here.
Let's jump right into this weeks eats, thanks once again to Jenn at Peas and Crayons! Check out her blog for her own W.I.A.W. post along with plenty of other new blogs to discover.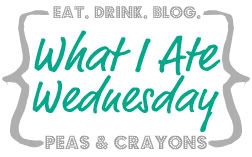 7:30 – Breakfast
Since the 1/2 marathon, I have been exhausted by 7 p.m, so I've been collapsing in bed extremely early this week. I've been sleeping at least 8 1/2 hours a night and waking up before my alarm even goes off! It's amazing! I really can't get over how much better I feel, and the positive impact it has on my day…. not only that, but I also have had the chance to make and eat my breakfasts at home before work! No more scarfing down my cold breakfast as I hear my class stampeding down the hallway towards my classroom! It's divine, lemme tell you.

Yesterday I decided to switch it up a bit and surprise my taste buds with some french toast!
I soaked a 100-calorie Sandwich Thin in a mixture of:
1 egg, 1 egg white

tsp of cinnamon

packet of Truvia

splash of vanilla extract
Before eating, I topped my french toast with a few TBSP of PB2. I also had some peppermint tea on the side. Delicious start to my morning!
11:45 – Lunch
I went from a really awesome breakfast to a very weak lunch, I'll admit. I didn't have much in the fridge, so I threw together a wrap with hummus and some grilled chicken topped with spinach. On the side I had some cut up veggies. Did this fill me up? Not even a little bit. It was a long afternoon of hunger, and I was not a happy camper. My mind must have been stuck on how amazing my breakfast was and it totally slipped my mind to pack much more than this. Duh. Lesson learned.
4:00 – Snack ATTACK.
As soon as I walked in my door, I threw my bag down and quickly put together my favorite "after school snack." That picture is not actually from yesterday (my hunger did not allow me to grab my camera), but it looked exactly the same!
In the mix:
1 cup unsweetened almond milk

1 scoop chocolate protein powder

handful frozen spinach

tsp. cinnamon

1/4 cup fiber one
This did the trick of holding me over through my workout which included 30 minutes on the elliptical and a Bodypump class. I thought my legs were sore before the class…. stairs are NOT my friend today.
7:30 – Dinner
His and her turkey burger dinner (with some papertowels on the side. Classy.). Our dinner came together quickly thanks to a certain grill master (George Forman), and some leftover roasted veggies we had from dinner last night. I had my turkey burger on top of a bed of spinach and alongside the veggies, Bobby had his on a sandwich thin with pepperjack cheese and with some sautéed spinach on the side.
There ya have it, my eats from Tuesday!
What is your favorite form of a burger? Turkey? Ground beef? Do share!
When was the last time you were so hungry you could have eaten your arm off?
What is the best thing you've eaten this week?
Also, just a FYI…. I recieved a few emails asking for my training plan, and I promise I'll be sharing what I have sometime this week!